StellarTM 150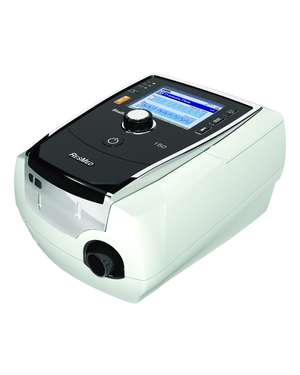 Intelligent ventilation optimised for you
This product may not be available in all countries.
The Stellar 150 ventilator is equipped to help with your respiratory condition and keep your carbon dioxide levels steady both during your hospital stay and at home.
It features IntelligentAir, a collection of ResMed technologies that can tailor therapy to your individual breathing needs. IntelligentAir comprises iVAPS (intelligent Volume-Assured Pressure Support), a mode that automatically adapts to your changing needs, an intelligent Backup Rate (iBR)* that gives you maximum opportunity to breathe spontaneously and an optional AutoEPAP** feature that helps keep your upper airway free of obstruction.
Stellar 150 is suitable for both adults and children (weighing down to as little as 13 kg) and can be fine-tuned by the clinician to suit your needs.
*Available in iVAPS and ST modes. **Available in iVAPS mode.